Do you want a water feature to brighten up your house but do not have a lot of space? A pondless waterfall might be the solution to your problems. If you are unfamiliar with this, it has a recirculating system, so there is no need to have a pond at the bottom of it.
Choosing a Pondless Waterfall Kit
Pondless waterfall kits come equipped with a big, in-ground reservoir that will pump water through the spillway that flows back over and over. It is easy to install the system and does not require much maintenance. 
The kits are excellent if you are not particularly handy with tools since they already provide all of the requirements in a single package.
You should opt for pondless waterfall kits that make use of good materials and can create streams from 2 meters to 8 meters long. Ideally, they will come with Firestone EPDM liner, Firestone EPDM Stream Liner, and non-woven geotextile underlayment.
A Lot of Options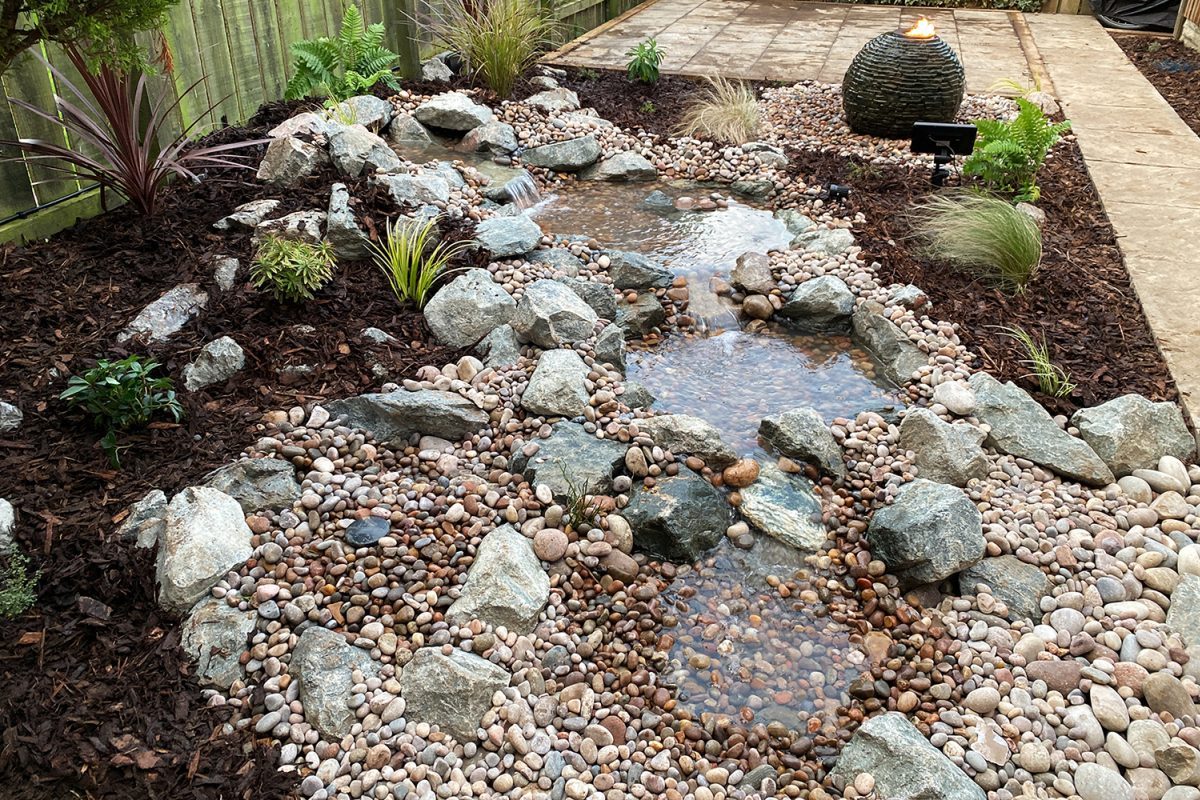 There are many pondless waterfall kits available on the market. You can pick smaller systems and larger ones. Whichever you go with, it will undoubtedly enhance the current landscape and improve the state of the garden. 
Make sure to check out accessories for pondless waterfalls while you are at it! They make for good ways to improve the maintenance and beauty of your water feature.
Available on the Market
We combed the internet to compile this list of available pondless waterfalls. These products might be right for you:
Backyard Waterfall Landscape Fountain Kit

DIY Backyard Waterfall Kit

Small Pondless Waterfall Kit – 2 M Stream

Medium Pondless Waterfall Kit – 5 M Stream

Medium Pondless Waterfall Kit – 5 M Stream with 8,000 LPH – 15,000 LPH Adjustable Flow Pump

Medium Deluxe Pondless Waterfall Kit – 5 M Stream

Large Pondless Waterfall Kit – 8 M Stream with Aquasurge 20,000 LPH Pump

Large Pondless Waterfall Kit – 8 M Stream with Aquasurge 15,000 – 30,000 LPH Pump

Large Deluxe Pondless Waterfall Kit – 8 M Stream

Pondless Waterfall Vault

Pondless Waterfall Vault Extension

Small Aquablox

Medium Aquablox

Large Aquablox

Aquabasin 30

Aquabasin 45